National Organization: Zeta Psi Fraternity
Mascot: Tasmanian Devil
Colors: White, Gold, and Black
Local History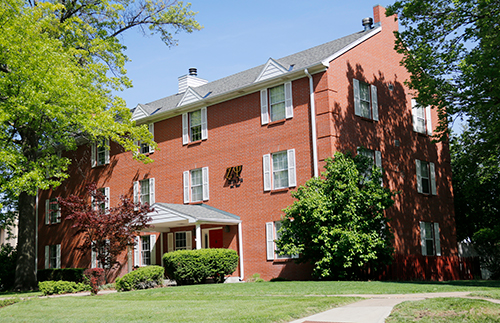 The Omicron Chapter traces it's history to the founding of Nebraska Wesleyan University. Our forefathers, the Theophanians, founded our local fraternity in 1887. Also known as "Theos," they changed the name of the fraternity to Theta Phi Signa circa 1907. When enrollment at NWU dropped from 720 to 400 during the Great Depression, the Theos decided to merge with Everett, another local fraternity founded in 1899. The merger of these two fraternities in 1933 created the Crescent Fraternity.
Our chapter closed in 1943 when World War II depleted our fraternity of all it's actives. It reopened following the end of the war in 1945.
We remained a local fraternity until 1958 when we affiliated with Zeta Psi Fraternity of North America as its Omicron Chapter. A collapse of discipline at the fraternity caused our Elders to close our chapter in the early 1970's. It was re-founded in 1974. Since the 1980's, a resurgence in strong leadership at the Active and Elder levels has resulted in tremendous chapter improvements. These improvements include the construction of the current fraternity house, numerous International Fraternity Awards and the honor of hosting the 1996 and the 2007 Annual Zeta Psi International Convention.
The Omicron Chapter has occupied many residences during its history. Prior to World War I, the Crescents occupied 5007 Huntington Ave., a house that the Everetts had purchased. That house was repossessed in 1943 when the chapter closed. When the chapter reopened in 1945, a different Crescent house, located at the northwest corner of 49th and St. Paul Streets was obtained. That house was quickly outgrown and was replaced with a new house built at 4945 Walker Avenue in 1951. An addition in 1958 changed the house from an "L" shape to a "U" shape. The current fraternity house, located at 5132 Madison Avenue, was built during 1989 and 1990. It was formally dedicated on April 28, 1980 as the Richard W. Smith Fraternity House.
Greek Awards
Greek Emerging Leader, Carl Heinicke
Outstanding Greek Achiever, Corey Labenz
House Director of the Year, Shelly Kuzma
Outstanding Risk Management Policy
Mission Statement
Zeta Psi strives to be the premier international men's fraternal organization dedicated to forging academic excellence and life-long bonds of brotherhood. Through active chapter participation and continuing alumni outreach, Zeta Psi members are committed to the development of leadership, character and intellect and to the service of their brothers, their community and mankind.
As an undergraduate, your goal is to obtain an education. But obtaining an education can mean many things; almost anyone can party for four years, graduate, and never look back. What a waste. Fraternity membership can be so much more. It can be four great years of fun, excitement, challenge, leadership, brothers for life through thick and thin, the source of all that knowledge NOT taught in a classroom. It can also be the edge, opportunities, resources and connections you need to succeed in school, in business and in life.
Activities
Rock-a-Thon with Willard for Make-a-Wish Foundation
Party Bus Fall Formal
America Philanthropy Dance for the Wounded Warriors Project
Zeteful Dead Halloween Dance for Relay For Life
Ugly Sweater Winter Formal
Bowery (the longest running formal in Nebraska Wesleyan History)
Spring Formal in Kansas City
numerous putt-putt golf outings with Delta Zeta
Ice Skating with Willard
Spring volleyball tournament with Willard