Pi Mile Fun Run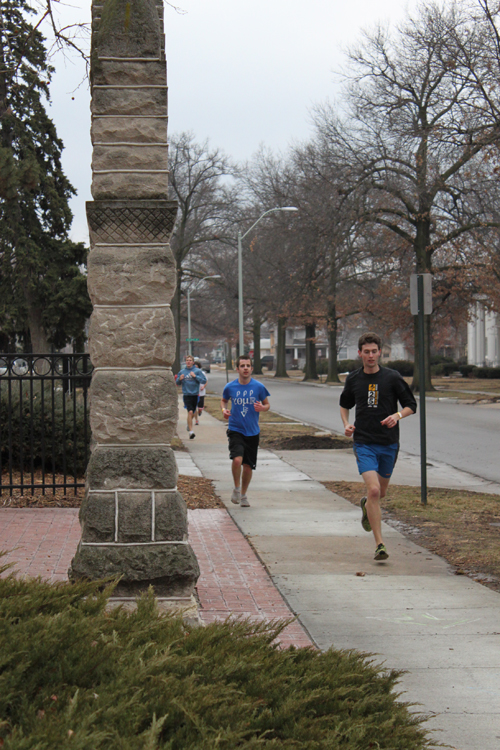 The Nebraska Wesleyan University Math Club is holding its 7th Annual Pi (π) Mile Fun Run on Saturday, March 18 at 9:30 a.m. We would love to have you come and join us for Pi and pie! You can run or walk the approximately 3.141592653… miles on the Nebraska Wesleyan University campus, and upon completion, you will receive an ENTIRE pie! This is a great chance for you to celebrate Pi (and pie).
When: 9:30 a.m. on March 18, 2017
Where: Check-in will begin at 8:45 a.m. in front of Olin Hall at Nebraska Wesleyan University (at the corner of St. Paul Ave. and 50th Street). The course will remain entirely on NWU's campus.
Cost: All students currently enrolled at any school or university pay $5, Non-students pay $10 (Make checks out to Nebraska Wesleyan University or NWU).
What you get: Exercise, great company, Pi (in the form of temporary tattoos) and a PIE (yes, a whole one)!
Deadlines: Registration must be turned in by Monday, March 13, 2017 by 4 p.m. to guarantee a pie. Late registration is accepted at no additional cost, but we cannot guarantee that you will receive a pie.
To register, fill out the
form and sign the waiver. Turn the form and payment in to Dr. Erdmann's office in Olin 114 (can leave under the door) or mail it to:
Nebraska Wesleyan University
Pi Mile Fun Run
Attn: Melissa Erdmann, Mathematics Department
5000 St. Paul Ave.
Lincoln, NE 68504
Contact or visit us
Mathematics Department
Connie Thorson, Administrative Assistant
Smith-Curtis, Room 311
Lincoln, NE 68504
402.465.2233 office
cthorson [at] nebrwesleyan.edu