Pi Mile Fun Run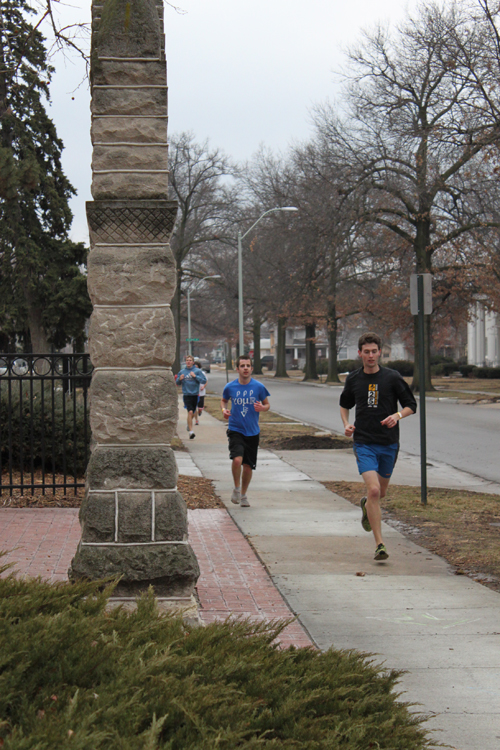 The Nebraska Wesleyan University Math Club is holding its 8th Annual Pi (π) Mile Fun Run on Saturday, March 17 at 10:30 a.m. We would love to have you come and join us for Pi and pie! You can run or walk the approximately 3.141592653 … miles on the Nebraska Wesleyan University campus, and upon completion, you will receive an ENTIRE pie! This is a great chance for you to celebrate Pi (and pie).
When: 10:30 a.m. on March 17, 2018
Where: Check-in will begin at 9:45 a.m. in front of Olin Hall at Nebraska Wesleyan University (at the corner of St. Paul Ave. and 50th Street). The course will remain entirely on NWU's campus.
Cost: All students currently enrolled at any school or university pay $5, Non-students pay $10 (Make checks out to Nebraska Wesleyan University or NWU).
What you get: Exercise, great company, Pi (in the form of temporary tattoos) and a PIE (yes, a whole one)!
Deadlines: Registration must be turned in by Friday, March 9, 2018 by 4 p.m. to guarantee a pie. Late registration is accepted at no additional cost, but we cannot guarantee that you will receive a pie.
To register,
fill out the form and sign the waiver . Turn the form and payment in to Dr. Erdmann's office in Olin 114 (can leave under the door) or mail it to:
Nebraska Wesleyan University
Pi Mile Fun Run
Attn: Melissa Erdmann, Mathematics Department
5000 St. Paul Ave.
Lincoln, NE 68504
Contact or visit us
Mathematics Department
Connie Thorson, Administrative Assistant
Smith-Curtis, Room 311
Lincoln, NE 68504
402.465.2233 office
cthorson [at] nebrwesleyan.edu