Visiting Writers Series
Nebraska Wesleyan University's Visiting Writers Series brings prominent national and international writers to campus. In addition to giving public readings, our visiting writers meet with students to discuss the craft of writing. The mission of this series remains the promotion of literary experiences with contemporary writers meant to enliven and to educate young writers here at NWU.
All readings are free and open to the public.
Brenda Shaughnessy (Poet)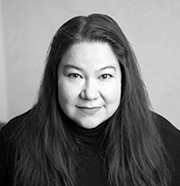 Thursday, March 30, 2017
6 p.m.
Olin A Lecture Hall
Brenda Shaughnessy is the author of four poetry collections, most recently So Much Synth (2016, Copper Canyon Press) and Our Andromeda (2012), which was a finalist for the Kingsley Tufts Award, the International Griffin Prize, and the PEN Open Book Award. Her work has appeared in Best American Poetry, Harpers, The New York Times, The New Yorker, O Magazine, and Poetry Magazine. Recent collaborative projects include writing a libretto for a Mass commissioned by Trinity Church Wall Street for composer Paola Prestini, and a poem-essay for the exhibition catalog for Toba Khedoori's solo retrospective show at LACMA.
Brian Blanchfield (Poet)
Thursday, April 13, 2017
6 p.m.Callen Conference Center
Brian Blanchfield is the author of three books of poetry and prose, most recently Proxies (Nightboat Books, 2016; Picador UK, 2017), which is a collection of essays of cultural close reading and a dicey autobiography, for which he received a 2016 Whiting Award in nonfiction. His second book of poems, A Several World (Nightboat, 2014), was the recipient of The Academy of American Poets' 2014 James Laughlin Award and a longlist finalist for The National Book Award. His poetry and prose have appeared in Harper's, The Oxford American, The Nation, and The Paris Review.
Past Visiting Writers
Year
Writers
Fall 2016
Peter Gizzi
Claudia Rankine
Lucy Ives
Spring 2016
Porochista Khakpour
Michael Knight
Shane McCrae
Fall 2015
Dagoberto Gilb
J.D. Schraffenberger
Kit Yan
Spring 2015
Sarah Braunstein
Erik Campbell
Robert Fernandez
Mary Hickman
Amaud Jamaul Johnson
Bradford Tice
Fall 2014
Mark Jay Brewin, Jr.
Travis Mossotti
David James Poissant
Christine Sneed
Spring 2014
Trey Moody
Joshua Robbins
Mary Helen Stefaniak
Fall 2013
Tricia Currans-Sheehan
Jeanne Emmons
Kristi Maxwell
Bradford Tice
Laura van den Berg
Spring 2013
Oni Buchanan
Charlotte Pence
Adam Prince
John Walker
Jon Woodward
Fall 2012
Chi Tak Chan
Chun Ying Lin
Caryl Pagel
Lysley Tenorio
Stephanie Ye
Spring 2012
Suzanne Buffam
Jennifer S. Davis
David Philip Mullins
Srikanth Reddy
Fall 2011
Margaret Lazarus Dean
Hye-Kyung Lee
Dorothy Tse
Susan Wheeler
Yueran Zhang
Spring 2011
Jessica Savitz
Willy Vlautin
Fall 2010
Meg Kearney
Ed Roberson
Robert Wrigley
Spring 2010
Arthur Smith
Hannah Tinti
Fall 2009
Marcia Douglas
John McManus
Spring 2009
Mary Jo Bang
Brian Evenson
Sheila Heti
Gary Lutz
Fall 2008
Joanna Klink
Timothy Liu
Spring 2008
Chris Bachelder
William Henry Lewis
Ben Marcus
Selah Saterstrom
Fall 2007
Erik Campbell
Graham Foust
Christian Hawkey
Harryette Mullen
Sawako Nakayasu
Spring 2007
Cary Holladay
Josip Novakovich
Julie Orringer
Bapsi Sidhwa
Fall 2006
Grace Bauer
Anthony Hawley
Jeffrey McDaniel
Robyn Schiff
Spring 2006
Chris Offutt
Z.Z. Packer
Fall 2005
John D'Agata
Denise Duhamel
Dean Young
Contact or visit us
English Department
Stephanie Loos, Staff Assistant
Old Main, Room 102
Lincoln, NE 68504
402.465.2343
sloos [at] nebrwesleyan.edu