Theta Chi Fraternity
Local History
The Gamma Phi Chapter of Theta Chi Fraternity began in 1889 as a local secret society known as the Dialectics. In 1917, the Dialectics transitioned into a local fraternity known as Delta Omega Phi. The fraternity suffered greatly due to the Great Depression but was saved when they merged with Theta Chi Fraternity on April 30, 1949 to become the Gamma Phi Chapter of Theta Chi Fraternity.
Greek Awards
Scholarship Programming
Chapter Adviser of the Year
2014 recipient of the Theta Chi Chapter Achievement Award, given only to top Theta Chi chapters in the country
Mission Statement
Founded on the principle of friendship through the mutual assistance of every member, Theta Chi aims to provide its members with an enjoyable and fulfilling collegiate experience that also prepares them for rewarding, successful lives after graduation.
Activities
Service/Philanthropy
Each member of the fraternity gives back to the community by volunteering regularly; members currently volunteer with Big Brothers/Big Sisters, Snow Angels (snow shoveling for the elderly/disabled), the Humane Society and People's City Mission. Members also help with several activities at First United Methodist Church and other one-time service events.
Theta Chi participates in Relay for Life every year and raises money for the American Cancer Society by selling waffles and funnel cakes.
The brothers often partner with Habitat for Humanity and volunteer to work at various marathons and building projects. This past spring, for example, they installed insulation for a family in need.
Theta Chi also hosts events to benefit the USO (United Service Organization – a nonprofit organization that works to lift the spirits of America's troops and their families). This year, Theta Chi hosted an inaugural golf tournament that raised nearly $1,000.
Theta Chi also is proud to participate in highway clean-up twice each year.
Scholarship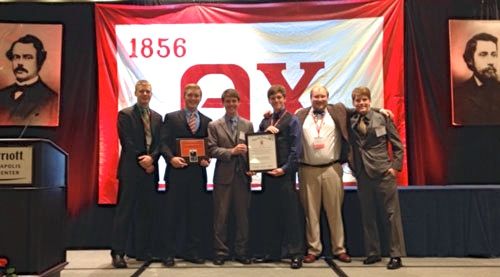 The brothers are proud to have GPAs above the all-men's average and work to support each other in academic achievement by hosting study hours and informal tutoring sessions. Several members also work on-campus as tutors in their respective majors.
The men of Theta Chi are studying a variety of topics; current members are majoring in science (chemistry, biology, physics and math), theatre (performance, stage design/management and directing), social sciences (psychology, history and sociology/anthropology), music (specifically music education), business and English.
Brotherhood
The brothers release stress during dead week by hosting a dodgeball game at their house against Theta Chi's Alpha Upsilon Chapter at UNL.
In addition to regular involvement with Theta Chi chapters at UNL and UNO, a growing tradition is traveling to additional chapters around the country during spring, fall or winter break to tour chapter houses and meet new brothers.
Theta Chi regularly has intramural teams for several sports, giving the members additional opportunities for fun.
Theta Chi hosts a Parents' Day every semester as a way to say thank you for everything our parents do, from baking cookies for finals week snacks to helping with fall and spring cleaning and even installing a new floor in the basement.
Theta Chi also hosts an alumni day each semester when brothers who have graduated return to meet the current members and share how membership in Theta Chi has continued to benefit them after college.
Campus Involvement and Leadership
Current members are involved in multiple clubs and organizations, including Student Affairs Senate, Interfraternity Council, Society of Scholars, University Choir, Jazz Choir, Wesleyan Entertainment Board, International Relations Organization, Psychology Club, History Club, Tri-Beta (chemistry honorary), Blue Key (academic and service honorary), Order of Omega (Greek honorary), university radio station, track team, cross country team and intramurals.
Social
The Fraternity traditionally begins the year with a Toga Party dance and then continues to host events throughout the year that are open to all of campus. Recent dance themes have included Mardi Gras, Decades, and Luck of the Irish.
Theta Chi also hosts a fall and spring formal dance each year, usually with a campus sorority.
Theta Chi members participate in multiple smaller social events each year, from date nights and camping trips to sorority serenades and watching the Super Bowl together.
Theta Chi has several members involved in theatre, music and college athletics; members regularly attend these events to support each other.
Officers
President
Cody Schilling
cschilli [at] nebrwesleyan.edu
Theta Chi Facts
National Organization: Theta Chi
Mascot: Rattlesnake
Colors: Military Red and White
Motto: Assisting Hand