Bachelor of Science in Business Administration
With a Bachelor of Science degree with a major in Business Administration, you will gain a broad understanding of business concepts and practices. The core foundation of business administration is planning, leading, organizing, and controlling the aspects of a small or worldwide business.
Objective
The objective of the adult business program is to provide students with a solid grounding in business administration and accounting in sufficient depth to achieve a professional position in a variety of industries.
Degree Requirements
The program consists of 52 hours of coursework in the Business Administration major and an approved 3 hour math class.
General education requirements for graduation from Nebraska Wesleyan University must be fulfilled by all candidates for any baccalaureate degree, including the Bachelor of Business Administration.
Class Schedule
Typically, classes are held one to two nights a week in five- and eight-week sessions and on weekends. Some online and hybrid online/offline classes are available.
Career Opportunities
A business administration degree is one of the most sought-after by employers because it covers a wide area of expertise. Jobs that may be available to you with a business administration degree include accounting, management, business information system manager, hospitality management, human resource management, sales and marketing positions, and small-business management. Business majors are highly valued by government agencies, healthcare organizations, industry and nonprofits. A business major also can prepare you for starting and managing a successful small business.
Read also Business:
What can I do with this degree? (PDF) in the NWU Career Center.
Special Aptitudes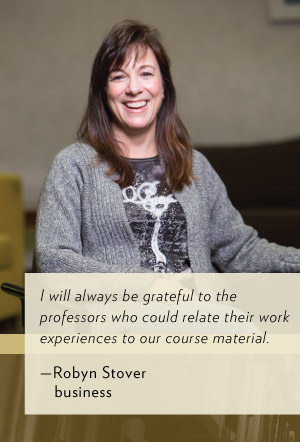 People planning a career in business should have an aptitude for mathematics and be able to analyze, compare, and interpret facts and figures quickly. In addition communication skills, critical thinking, listening, nonverbal communication, and problem-solving abilities are valuable assets. Business majors must be good at working with people, business systems, and computers. Because business decisions are made on the basis of their statements and services, they should have high standards of integrity.
Financial Aid
How to apply for Financial Aid.
Application Process
Contact Us
For questions or to find out more about our program, contact us.
Contact or visit us
Lincoln
5000 Saint Paul Avenue
Lincoln, NE 68504
402.465.2329
Omaha
14010 FNB Parkway, Suite 700
Omaha, NE 68154
402.827.3555
adultadmissions [at] nebrwesleyan.edu